Just because all seems well in our gut, that doesn't mean we're getting enough fiber. 95% of Americans don't get enough daily fiber and that's probably you reading this.

Hitting our daily fiber targets is essential to our health as it connects everything from the gut to our overall wellness. We're here to explain why fiber will be your new favorite f-word.
What is Fiber and Why is it Important?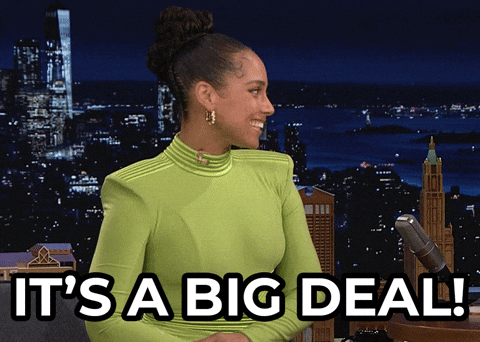 The Tonight Show / Via media.giphy.com
If you've read any of our other blog posts, you know how obsessed we are with fiber. For the fiber newbies, let's start at the beginning.
Fiber is an indigestible carbohydrate. It cannot be broken down into sugar molecules, unlike most carbohydrates. Fiber coats your gastrointestinal tract and helps your digestive system. 
While a lot of other waste comes out of your body, toxins tend to stick to the colon. When those toxins build up in your colon, it can lead to some negative effects on your body. For example, it can stop nutrients from being absorbed, cause weight gain, and even lead to various diseases, like colon cancer. Getting more fiber helps evict those toxins from your body and put them where they belong: in the toilet bowl, not your intestines.
Fiber 101: Soluble vs. Insoluble
There are two types of fiber: soluble and Insoluble. These two have different functions and both of them are good for you. 
Soluble fibers absorb water and become a gel. This gel makes us feel fuller as it takes up space in the colon making us feel satiated. Fiber has many health benefits like lowering your body's cholesterol, regulating blood sugar levels, increasing healthy gut bacteria, lowering inflammation in the body, and helping you digest better. Seriously, fiber is amazing.
Good sources of soluble fiber are apples, barley, beans, carrots, citrus fruits, oats, peas, and psyllium husk (found in Bonny). 
Our other friend insoluble fiber, moves waste through the intestines before it hits the toilet. Insoluble fiber is also not digested by the body and stays intact and acts as a magnet, bulking up waste in the gut for the smooth release from the body. Insoluble fiber helps the body process waste better, improves bowel health, treats constipation, and reduces your risk for colorectal conditions.
Good sources of insoluble fiber include berries, nuts, wheat bran, whole-wheat flour, cauliflower, green beans, potatoes, and carrots. We'll get to more fiber sources later.
Fiber Health Benefits 
Fiber has been proven to provide a lot of health benefits including boosting immunity, helping withconstipation, diverticulosis, and bloating.
Because of its proven health benefits, the USDA recommends 25 grams of fiber per day for women while 38 grams for men.  
The Fiber Gap
On average, American adults eat only 10 to 15 grams of total fiber per day. 
Most people believe that they consume enough fiber, butresearch shows that only about 5% of the population meets recommended fiber intake. That means an estimated 95% of Americans are not getting the recommended amounts of fiber! We knew we had to do something (like launch amazing tasting fiber but more on that later).
Why It's Important to Read the Labels on Food
So how do we make sure we get more fiber in our diet? 
Check those nutritional fact panels that are printed on all our food. Here you will find the list of ingredients in the product along with a breakdown of % Daily Value (DV) general nutrition advice. The % DV shows how much a nutrient in a serving of food contributes to a total daily diet and helps determine if the food serving is high or low in a nutrient.
You want to look for that dietary fiber row under the total carbohydrates. Although fiber is a carbohydrate, it is counted differently, as fiber is deducted from the total carbohydratesto get the net carbs. 
High Fiber Foods to Add to Your Cart
Tesco / Via media.giphy.com
Now that we have a number in mind as our fiber requirement, let's figure out how to hit it. Allow us to help: 
High-Fiber Whole Grains
There aretwo types of grains: Whole grains and refined grains. 
Whole grains contain the entire grain: the bran, germ, and endosperm, while refined grains have been milled or ground finely to flour in such a way that bran and germ are stripped from it.
This process gives refined grains a finer texture and extra shelf life but the process removes nutrients needed by the body such as dietary fiber. Examples of refined grains include white flour, white rice, and white bread. Many breads, pasta, desserts, and pastries are also made with refined grains.
Choose whole grains instead that also provide additional nutrients like thiamin (Vitamin B1), riboflavin (Vitamin B2), niacin (Vitamin B3), folate (Vitamin B9), iron, magnesium, and selenium. 
Wondering how much fiber does a whole grain food have? Below is thelist of examples. Note data is directional and may vary based on your food supplier:
| | | | |
| --- | --- | --- | --- |
| WHOLE GRAINS | SERVING SIZE | CALORIES | FIBER (g)  |
| Ready-to-eat cereal, high fiber, unsweetened | 1/2 cup | 62 | 14.0 |
| Popcorn | 3 cups | 169 | 5.8 |
| Ready-to-eat cereal, bran flakes | 3/4 cup | 98 | 5.5 |
| Quinoa | 1/4 cup | 57 | 5.2 |
| Bulgur, cooked | 1/2 cup | 76 | 4.1 |
| Barley, pearled, cooked | 1/2 cup | 97 | 3.0 |
High Fiber Vegetables 
Vegetables are a good sources of fiber, especially dark-colored ones.
VEGETABLES

SERVING
SIZE

CALORIES

FIBER (g)

Artichoke, cooked

1 cup

89

9.6

Navy beans, cooked

1/2 cup

128

9.6

Green peas, cooked

1 cup

134

8.8

Avocado

1/2 cup

120

5.0

Broccoli, cooked

1/2 cup

27

2.6

Carrots, cooked

1 cup

54

3.8

Carrots, raw

1 cup

52

3.6
Start Adding Veggies Today
You can start slowly with a veggie-based soup, adding veggies to your omelets, or make a lettuce wrap. 
High-Fiber Fruits
Fruits are also excellent sources of fiber:
FRUITS

SERVING
SIZE

CALORIES

FIBER (g) 

Guava

1 cup

112

8.9

Raspberries

1 cup

64

8.0

Blackberries

1 cup

62

7.6

Boysenberries

1 cup

66

7.0

Apple, with skin

1 medium

104

4.8

Blueberries

1 cup

84

3.6

Banana

1 medium

112

3.2
The Deal with Fruit Skins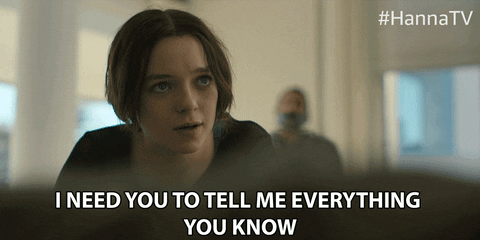 Amazon Prime Via Giphy media.giphy.com
You may have been advised not to peel your fruits when eating, especially apples. As an example, a raw apple with skincontains more nutrients: 332% more vitamin K, 142% more vitamin A, 115% more vitamin C, 20% more calcium, and up to 19% more potassium. Same with veggies. It's alsoreported that peels in vegetables also contain significantly more fiber and antioxidants. Up to 31% of the total amount of fiber in a vegetable can be found in its skin.
How About Fruit Juices?
Though in a liquid form, some fresh juices like prunes, lemon, and apple, still contain dietary fiber that is good for digestion. Check the label though, some fruitjuice concentrates have a lot of added sugars.
High Fiber Nuts and Seeds
Nuts and seeds are a good source of healthy fats and proteins. They also contain a good amount of fiber. 
| | | | |
| --- | --- | --- | --- |
| NUTS AND SEEDS | SERVING SIZE | CALORIES | FIBER (g)  |
| Pumpkin seeds, whole | 1 ounce | 126 | 5.2 |
| Coconut | 1 ounce | 187 | 4.6 |
| Chia seeds | 1 Tbsp | 58 | 4.1 |
| Almonds | 1 ounce | 164 | 3.5 |
| Chestnuts | 1 ounce | 106 | 3.3 |
| Sunflower seeds | 1 ounce | 165 | 3.1 |
| Pine nuts | 1 ounce | 178 | 3.0 |
| Pistachio nuts | 1 ounce | 162 | 2.9 |
| Flax seeds | 1 Tbsp | 55 | 2.8 |
Add Bonny Fiber to Your Cart
We get it. All of this sounds great but you have to go out and buy the food, cook it, and eat it. That's exhausting just thinking about it.
The good news is that adding a serving of Bonny fiber supplement can help you meet the recommended daily fiber intake. Bonny is a prebiotic fiber powder supplement with 17%+ your daily recommended fiber per serving. If you are a fiber newbie, it is best to start slowly to allow your body time to adjust.
Bonny is all-natural, plant-based and tastes AMAZING with fruit-filled flavors: Amplified Apple, Berry Beauty, and Strawberry Serenity. 
As always, we wish you a healthy gut and pleasant poops.